An Amazing Boat Party With Amazing Views
Somos la compañía de fiestas de crucero con alcohol y de rastreo de pubs más antigua de Budapest. Y somos los anfitriones de la fiesta más divertida que navega por el corazón de Budapest.
Mientras bailas toda la noche y te mezclas con chicas y chicos con ideas afines, flotarás por uno de los ríos más pintorescos del mundo: el Danubio. Lo único que puede igualar las vistas es la diversión que tendrás durante la noche.
TRES FIESTAS EN UNA NOCHE
A las 20:00, la noche comienza en el corazón de la ciudad. Aquí es donde las bebidas ilimitadas fluyen rápida y gratuitamente. Es el momento perfecto para conocer, mezclarse y charlar con otros navegantes.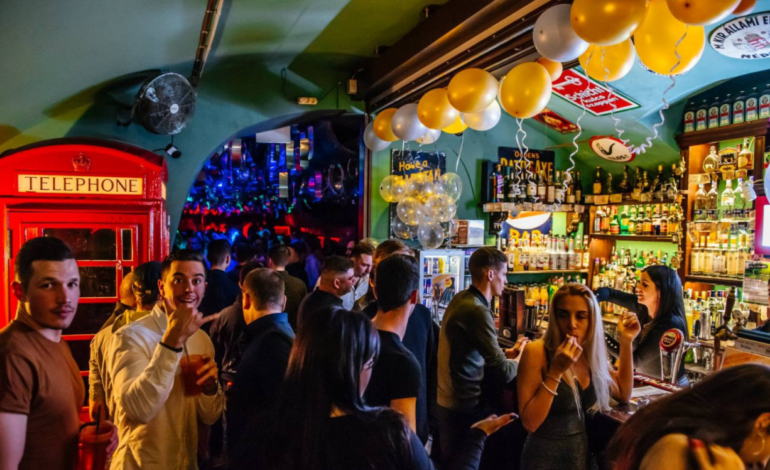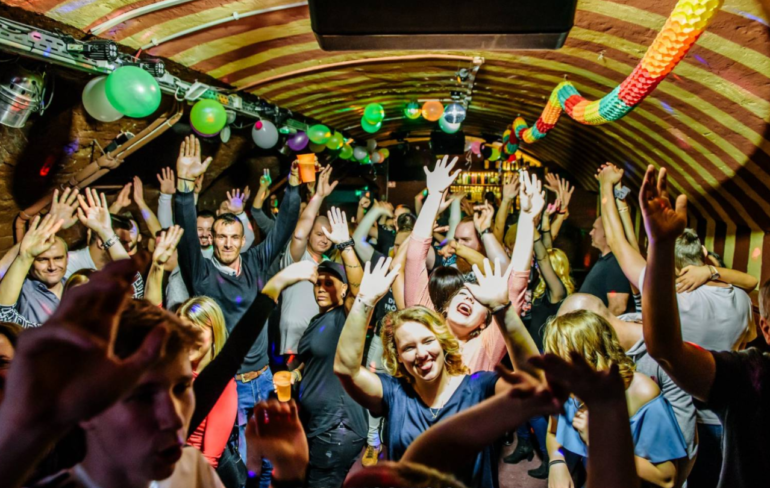 Zarpe desde las 22:30 hasta las 0:30. Disfrute de una fiesta bajo las estrellas mientras disfruta de las increíbles vistas del Parlamento, el Puente de las Cadenas y el Castillo de Budapest, por ejemplo. Mientras que nuestra pista de baile interior y el bar mantienen el frío en las crujientes noches de invierno.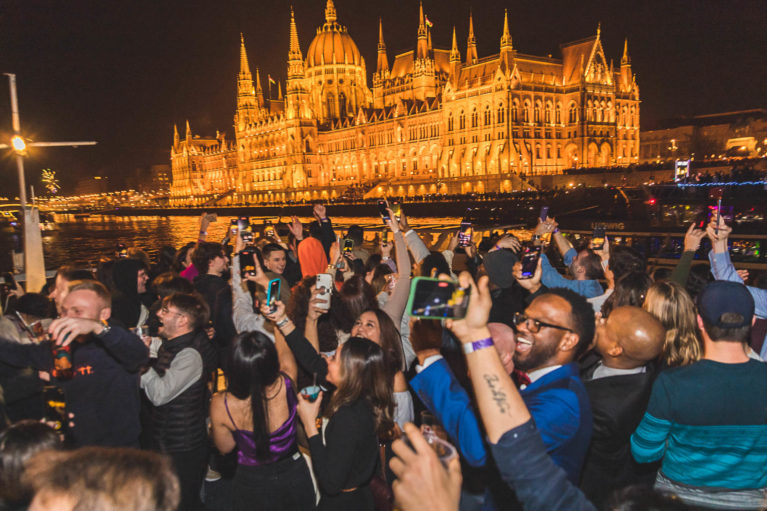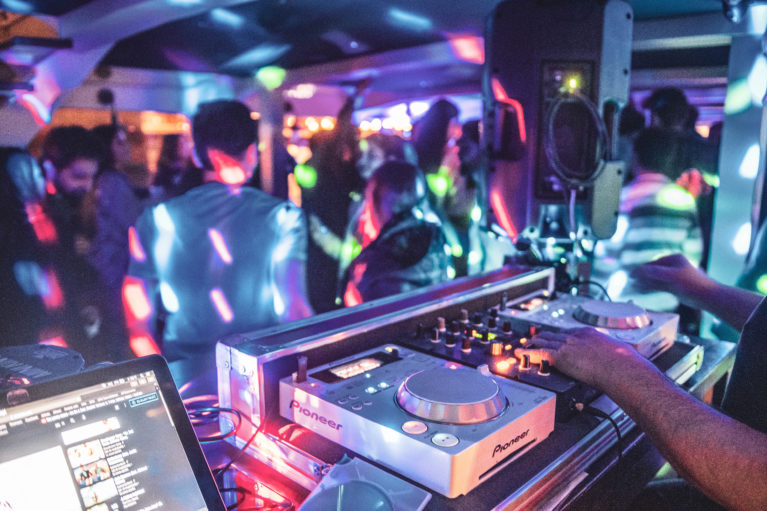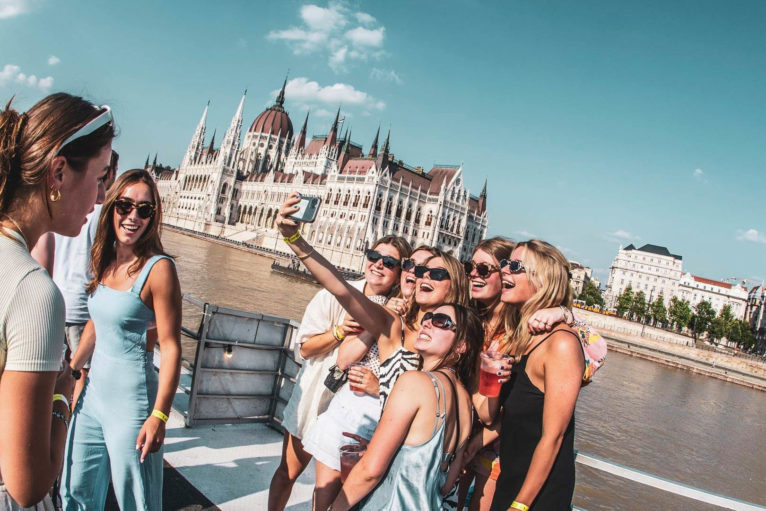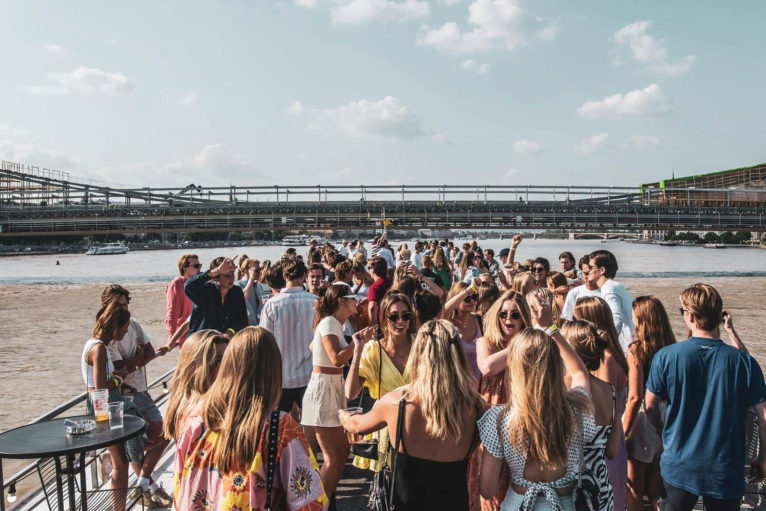 La fiesta después de la fiesta.rnSalte las colas, evite las esperas y diríjase directamente a la puerta principal como un VIP.rnObtendrá acceso instantáneo a algunas de las discotecas más (in)famosas de Budapest para que la fiesta, y las bebidas, continúen.rnAdvertencia: Esto no es para los débiles de corazón. Sólo los verdaderos profesionales de la fiesta llegan hasta aquí.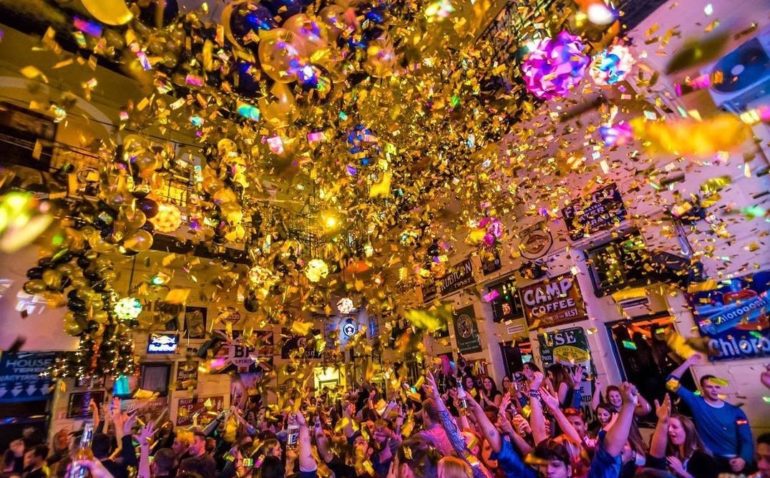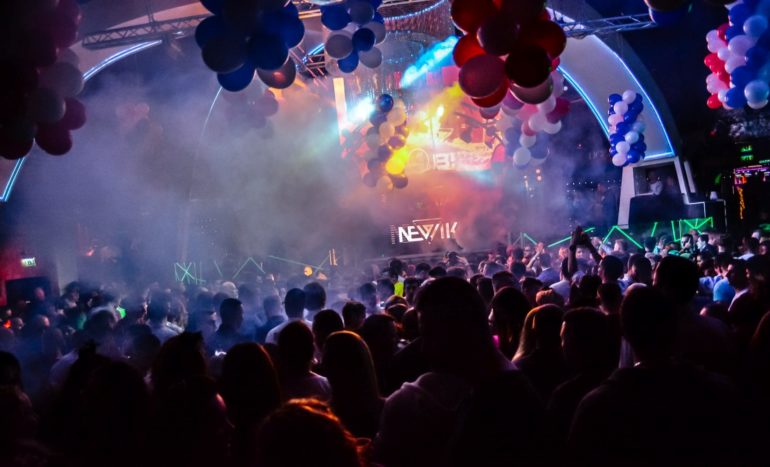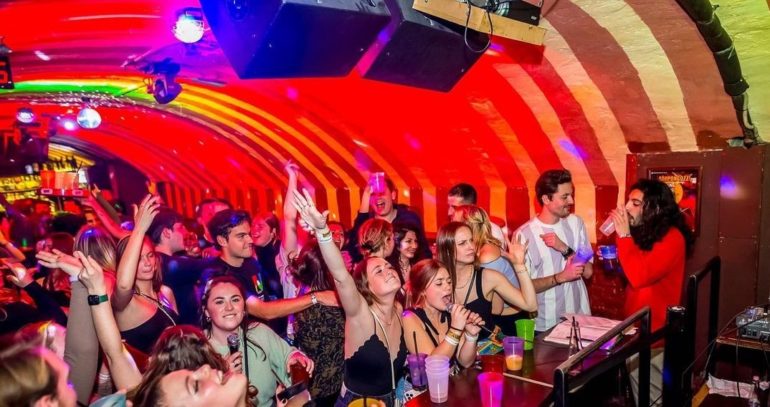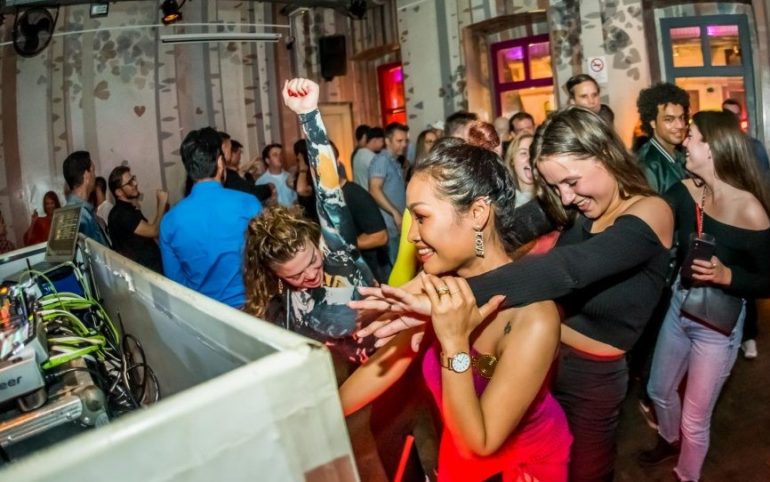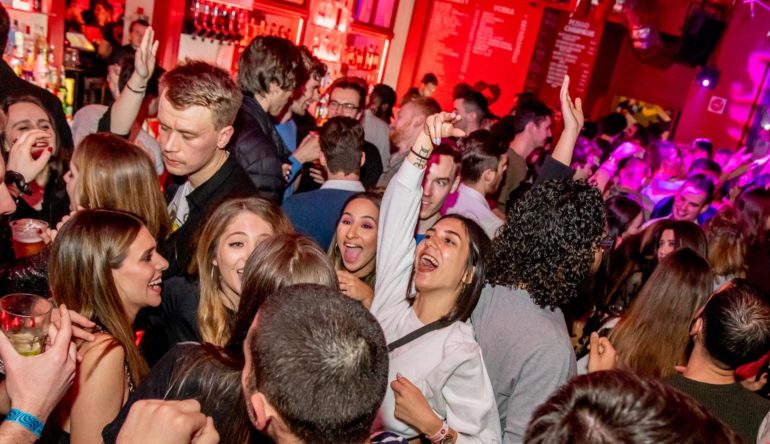 SELECCIONE SU PAQUETE DE FIESTA
Este es un barco de capacidad limitada. Date prisa en comprar porque a menudo se agotan las plazas.
Todas las entradas incluyen como estándar:
+ Navegue por el pintoresco río Danubio + Fotógrafo en noches de mucho trabajo +
+ Guías amistosos + Pista de baile interior + Cubierta panorámica exterior +
+ Barra de efectivo para pedidos de bebidas especiales y licores finos +
BOAT PACK
from
18 €
rn t
2 horas de fiesta en barco
rn t
DJ girando temas de principio a fin
rn t
Fiesta posterior gratuita
rn t
Acceso instantáneo a las discotecas y eventos más importantes de Budapest.
rn
5 hours of partying
GET TICKETS
ALL-NIGHTER
from
28 €
rn t
2 horas de fiesta en barco
rn t
DJ girando temas de principio a fin
rn t
Fiesta posterior gratuita
rn t
Acceso instantáneo a las discotecas y eventos más importantes de Budapest.
rn
GET MORE WITH ALL-NIGHTER:
rn t
Acceso a nuestra fiesta previa de 2 horas
rn t
Bebidas GRATUITAS que incluyen vodka, ron, ginebra, whisky, cerveza, vino y mucho más.
rn t
rn t
rn
7.5 hours of partying
GET TICKETS
¿Son un grupo de 20 o más personas?
No hay problema, póngase en contacto con nosotros y llegaremos a un buen acuerdo.
Sólo tarjetas de pago. ¿No tiene tarjeta de pago? No hay problema, hacemos transferencias bancarias. Contact us.
  Su información está segura y encriptada.
MEETING POINTS
Pre-Party bar
Iron Bar
Szent István krt. 9, rn1055 Hungary
Pre-Party bar
Boat location
Boat Party Budapest Dock 0
Szent István park,rn1137 Hungary
Boat location
After-Party Club
Cada noche vamos a diferentes discotecas y sólo puedes ir a la discoteca que está programada para esa noche.
Hemos aparecido en…
¿Necesita más razones para unirse a nosotros?
Si aún no está convencido de la Fiesta del Barco de Budapest, aquí tiene cinco más…
10
años de fiestas en barco con mucho movimiento.
200K+
Más de 200.000 viajeros, juerguistas y fiesteros han salido de fiesta en nuestros barcos.
3600+
salidas seguidas (lo que hace que sea una de las cosas más solicitadas para hacer en Budapest)
1,050+
Opiniones de 5 estrellas en TripAdvisor de personas amantes de la fiesta.
€19
Los paquetes parten de sólo 18 euros: en ningún otro lugar de Budapest se puede disfrutar tanto por el precio de unas cuantas tazas de café.
Got Questions? Get The Answers Here
Please be sure to read all the Rules before going out to party .
We want everyone to have a good time. Please follow these three simple rules for a night to remember.
No screaming like a mad man.
Enjoy the booze drinks but don't get drunk like a monkey on palm wine.
We have zero tolerance for unruly behavior.
The night kicks off at 20:00 at Iron Bar (Szent István krt. 9, 1055 Hungary). Meet us at 22:40 at dock 0 next to Szent István park, 1137 Hungary if you purchased "Boat Pack" tickets.
Our boat is docked at dock 0 next to Szent István park, 1137 Hungary.
You must arrive by 22:20 to check your ticket in and board for the 22:30 departure. We do not refund tickets for late arrivals. So plan your route to the boat in advance.
18+. If you are accompanied by a legal guardian, you can join the boat party but not the pre-party or after party.
No card, no worries. Please email us and we will find a solution.
Each event caters to 70-500 fun-loving party goers. So it's like a nightclub on the sea.
Our DJs are masters on the decks. They spin anything and everything from R&B, Hip-Hop, House, Electronic, Latin and Reggaeton.
Our bar and dance floor is indoor. You'll stay toasty-warm indoors while our DJ lays down the beats on those crisp winter nights.
Morrison's 2 offers the unique ruin pub experience from Budapest, it counts with 4 dance floors with techno & disco, karaoke & all-year heated garden. Morrison's 2. Address: Budapest, Szent István krt. 11, 1055 Hungary
Let's be honest. Guys who ask this spend more time chilling with Netflix instead of Netflix and chill. Our Boat Party Budapest promoters canvas the city every day to bring in the sexiest customers who love to party.
Whether you're visiting Budapest for a holiday or New Year's Eve getaway, you'll love every minute of our booze cruise parties. For many years now, we've topped many 'Things to do in Budapest' and 'Best party in Budapest' lists.